"Immortality" – Artura Studio, Tel Aviv 2006
Curated: Doron Polack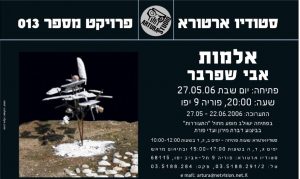 In this project Avi Sperber deals with topics of life and death, the link to earth and soil, connections identified with war and peace and the struggle for daily existence. It is symbolic that the exhibition was shown in Jaffa, a city with a splendid traditional history, a city that symbolizes more than any other place, the ability for Arabs and Jews to co-exist. The installation "Immortal" deals with fateful questions of man's Sisyphean struggle for immortality.
A steel tree was placed on a bed of salt and symbolizes the ladder of virtue that man is supposed to climb in order to obtain immortal life in heaven. The sin of the apple brought death to man and robbed him of the immortal life that was promised to him if he reached the Tree of Life. Part of the artistic design was borrowed from motifs appearing in early paintings of the ladder of life found in a Romanian convent and from a Chinese burial cape.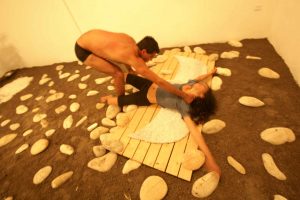 Man searches for immortality in every possible way, from raising the dead or rebirth, whether spiritually by the belief of survival of the spirit in worlds above or by returning the spirit to the body in worlds below or, as according to Plato "in thoughts of continuation of lineage by passion for love or by the erection of a monument that will forever glorify its creators".
Two main components make up the installation that was erected in the high-ceilinged gallery. The Tree of Life planted in salt composed of polygonal steel with foliage in the form of angels, is reminiscent of the ladder of virtue – via this ladder one can reach eternal and good life. The second component combines stones, wood and earth – elements that create symbolism in the renewing flow of life or symbolize mythical beliefs in raising the dead.
Doron Polack, Curator